STATUS.:
APERTO!
il server
Kingdom of Say è un server hard roleplay , reso il più vanilla possibile per gli appassionati del gioco base come me, che intende portare in alto il livello del role play game su minecraft. Il concetto del server lo si può riassumere in poche parole: Crea o unisciti ad una fazione, crea il tuo regno da zero fino ad espanderlo ad una città e ad una capitale, commercia con gli altri giocatori, alleati con i regni per battere il tuo avversario, scegli la tua forma di governo e vivi la vita medievale partendo dall'alto medioevo fino alla scoperta dell'america.
Pochissimo plugin based, il server è stato pensato per dar libero sfogo all'immaginazione del giocatore quindi lui stesso può ingegnarsi a rendere il tutto più realistico possibile (plugin aggiunti soltanto per accompagnare l'idea di un player).
Come detto prima, il server si presenta come un Hard Roleplay quindi sono in vigore le seguenti regole:
1)

Vietato lo SPAM di altri server.



Esempio: sto sul server Caio e dico di entrare tutti nel server Tizio
2)
Metagame: usare informazioni OOC in IC.
Esempio: tu in ooc sai che un posto è la base di una fazione criminale e dici questa informazioni in ic ad un player
3)
Powergame: Fare cose che nella vita reale non sono possibili da fare
.
Esempio: buttarsi giù da un palazzo e successivamente correre come un forsennato.
4)
MixChat: mixare la chat IC con quella OOC
.
Esempio: dire xD in IC, oppure asd o LOL, ma anche abbreviare.....
7)
DeathMatch: uccidere qualcuno senza un valido motivo IC
8)
RevengeKill: uccidere (per vendetta) la persona che ci ha ucciso in precedenza
Esempio: Tizio_Caio uccide Tizio_Sempronio, per vendetta Tizio_Sempronio uccide Tizio_Caio
10)
BunnyHop: saltare ripetutamente per andare più veloci o per sfuggire ai proiettili
. Di solito uno salta dopo aver finito lo "sprint" della corsa
13)
SLOG da scena rp : non bisogna sloggare/uscire dal gioco quando è in corso una scena rp
Esempio: uno ci sta arrestando e noi slogghiamo per non farci arrestare
14)
Flood: scrivere la stessa cosa più volte ripetutamente
Esempio: ciao. ciao. ciao. ciao. ciao. ciao. ciao.
14-bis)
Flood comandi: scrivere lo stesso comando più volte ripetutamente
Esempio: /ms /ms /ms /ms /ms /ms /ms
15)

è

SEVERAMENTE VIETATO

usare cheats o hacks
16)
Creare la propria scheda personaggio (leggere sotto) e usare nomi

realistici
17)

Il server è totalmente roleplay, dunque appena sarete in mappa inscenerete il vostro personaggio, non si va in giro a saltellare o disturbare i player già in gioco
PER UNA GUIDA RAPIDA AL ROLEPLAY E AI VARI COMANDI:
CHAT
RPEngine has a fully integrated chat system with 2 chat channels, OOC (Out of Character) and RP (RolePlay). The OOC chat is global while RP chat is set to go a configurable distance (default 35 blocks). The chat system is also compatible with permission plugins like permissions ex and shows player prefixes and suffixes in the OOC chat
The RP chat has a few formatting tricks:
Emotes
For expressing all of your character's actions! Simply use the
*
symbol in front of your action. For example:
*walked in a circle around the flowers
. Shows up as
George walked in a circle around the flowers
This uses your character's name as defined in the character card. If you use quotations it'll color the text white. This helps detonate speech.

OOC in the RP chat
Sometimes you need to tell the people you're rping with something, out of character. But there is no need for the whole server to see your message. So you send your message in the rp chat. Put
((
in front of your message and it will turn grey so people know it's out of character

Character Cards
Used for displaying information about your character. Use
/card
to view your cards. You can either
/card [value]
to set values or you can directly click on the text that pops up. Since the plugin sends you json messages instead of plain text messages you can interact with the chat, so instead of remembering all the commands to edit your card you can click on the values to edit them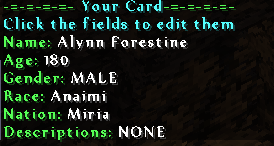 Birds
Birds are a way of sending long distance messages in roleplay. It wouldn't be realistic for your message to arrive instantly at the recipient, so the bird is a message that takes time to arrive to it's destination. The amount of time a bird takes depends on the distance between the two players and the configured speed of the birds (default: 20 blocks/s)

Rolls
Do you want to let chance decide what happens next to your character? How about a roll. It gives you a random number between 1 and the max you set with
/roll [maxRoll]

Countdown
The countdown is something players can use before they start their rp or pvp battle.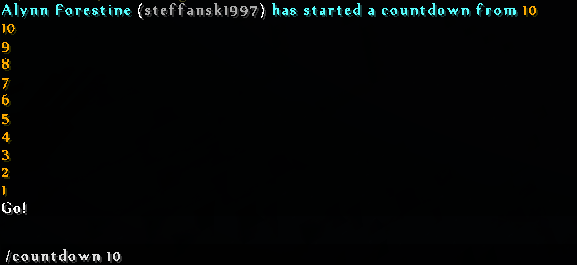 Dev Builds
- Not recommended for use on servers. We'll release build that are stable and meant for your server on this bukkit page
Jenkins
Commands
/card opens: your card

/card name [name]: Change your rp name

/card age [age]: Change your characters age

/card gender [male/female]: Set your characters gender

/card race [race]: Set your characters race (races are defined in the config)

/card nation [nation]: Set your character nation (nations are defined in the config)

/card desc [description]: Add a decription about your character


/rp: Switch to the rp chat

/ooc: Switch to the ooc chat

/toggleooc: Disable or enable the ooc chat

/whisper [message]: whisper something in rp (smaller range)

/shout [message]: shout something in rp (bigger range)

/bird [player] [message]: send a bird to a player

/roll [max]: Roll the dice

/countdown [startNumber]: start a countdown from [startNumber] to 1

/spawnpoint: teleport to your own nations spawnpoint (require rpengine.spawnpoint.own)

/spawnpoint [nation]: teleport to other nations spawnpoints (requires rpengine.spawnpoint.others)

/spawnpoint set [nation]: set a nations spawnpoint (require rpengine.spawnpoint.own or rpengine.spawnpoint.all)

Informazioni
IP server:
51.77.116.77:25609
Slot: 25
Versione: 1.13.2
Whitelist: no
RAM: 16GB
Sito web:
-
Forum:
-
Server Discord: https://discord.gg/uFJTuP
Tipo di gioco:
Survival, Role Play, Fazioni
Plugins e Mods: Rpengine
Staff attualmente attivo:
Balto22
Screenshots del server
(Modificato

04/02/2019, 01:53

da Balto.)